CCM elects new CCM members from CSO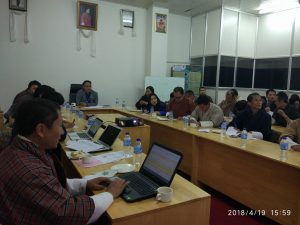 The current CCM members two-years term ends by May 2018, and the CCM election are in full swing. The CCM has sent letters to all apex agencies of the constituencies to elect/nominate CCM members.
Today CCM Secretariat coordinated CCM election from CSO Constituency. As practice to invite a CCM member to observe the process, Dr Shrestha from WHO Country Office, who is the CCM PDC Chair was invited to chair the CCM election and observe the election process. Ms Dechen Wangmo, consultant offered to make the presentation o the roles and responsibilities of the CCM member. Dr Tandin Dorji, LFA was also invited to observe the election process.
CSO Constituency elects the following 7 members:
| | |
| --- | --- |
| Names of Candidates | NGOs |
| Mr Ugyen Wangchuk | Ability Bhutan Society (ABS) |
| Ms Roseelen Gurung | Tarayana Foundation |
| Ms Deki Zam | Draktsho |
| Mr Sonam Dorji | Association of Bhutanese Tour Operators (ABTO) |
| Mr Chorten Dorji | Handicraft Association of Bhutan (HAB) |
| Ms Damchae Dem | Bhutan Association for Women Entrepreneurs(BAOWE) |
| Ms Tashi Payden Tshering | Royal Society for Protection and Care of Animals |
| Mr Nedup Tshering | Clean Bhutan |
| Ms Phuntshok Chhoden | Bhutan Network for Empowering Women (BNEW) |
| Mr Garab Dorji | Guide Association of Bhutan (GAB) |
| Ms Lhaden Wangmo | Respect, Educate, Nurture & Empower Women (RENEW) |
| Mr Tshering Dorji | Royal Society for Protection of Nature (RSPN) |
Find the agenda, election procedures, powerpoint files and the election result.